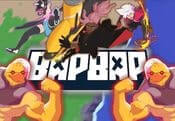 BAPBAP FREE GAME · PLAY ONLINE
In BAPBAP you will go to a universe where you will fight! Will you be able to remain one of the survivors on the field? To do this, players will have to assemble an amazing team of new heroes. Each of them has unique abilities that allow you to win faster.
Be dexterous and brave to get ahead and grab as many bonuses as possible! It is very important to come up with tactics and follow the chosen strategy. Also, don't be predictable, otherwise your enemies will track your next move. Show that you are a fearless person!