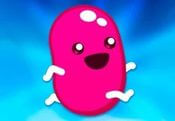 Goober Dash FREE GAME · PLAY ONLINE
In this game, players will take part in an unusual battle! There can be up to 32 participants at once, so the chances of winning are not that high. Try hard to overtake your competitors and get first place! This location has dozens of obstacles that will interfere.
They are dangerous and can lead anyone astray! Be careful and focused on the process to reach the finish line! Avoid traps by jumping and more! In addition, fans can change the hero by adding a cool skin or accessory to him!