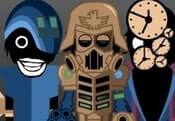 Incredibox Scratch FREE GAME · PLAY ONLINE
This is another cool mod for a famous game! Here, players will go to a location where they will meet bizarre characters. Yes, they have changed a little, but we do not know in what direction. But that didn't stop them from continuing to follow your orders, so get going soon!
Click on them to find out what sounds they make. All of them are unique and will surprise even the master himself. Experiment in this bright challenge to get great results and enjoy! Are you ready to show your creativity?