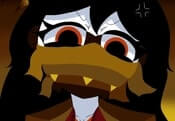 Incredibox Armed FREE GAME · PLAY ONLINE
Incredibox Armed is a mod that allows fans to be creative. Here, players will go to the field where they will meet cool heroes. They professionally make amazing sounds with their mouths. The main task is to assemble a team of them and achieve excellent results.
Don't be afraid to make mistakes and experiment to get the results you want. You can also adjust the speed of the melody, volume and much more! Mix characters in the correct order to feel the rhythm that will circle the entire planet!