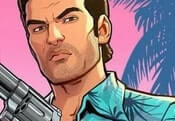 GTA Vice City FREE GAME · PLAY ONLINE
The main character recently served time in prison and was released. This did not help him get on the right track and now he continues bad deeds. In GTA Vice City, you have to complete various tasks in order to survive.
They will be given by the main bosses of the character, and they will also be from phone calls. There is no specific plot, so everything depends on you. Make decisions that will bring success in difficult cases! In this version, you still have to steal cars, rob people and other criminal things.