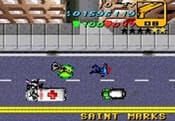 Grand Theft Auto Advance FREE GAME · PLAY ONLINE
The main character is a criminal who has a partner that is dangerous to society. The two of them were going to leave the city to stop criminal cases. Winnie suggested that the guy finally complete the tasks of the mafia.
During this process, he dies and now Mike is going to take revenge on the Leone family. In Grand Theft Auto Advance, players will be able to join different gangs! Each of them has unique bosses, allies and more. Meet new comrades who will help you find out the truth about your friend's death!