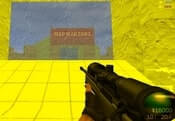 Counter Strike WarZone FREE GAME · PLAY ONLINE
Real fans have been waiting for updates and finally the time has come! More adrenaline is waiting for you in Counter Strike WarZone! Visit one of the maps where brutal shooting will take place. Show all opponents that you are a master and win.
Be smart to hit the target the first time. Don't forget to look for secluded places to wait out dangerous situations! Upgrade your weapons and upgrade your abilities along with it. Get rewards for achievements and take part in competitions!