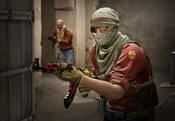 Cs Go 2023 FREE GAME · PLAY ONLINE
Trite and clear, very easy to manage. World famous shooter. There are two teams of 5 people. You choose a map and play for one of the parties (terrorists or special forces). The game is played up to 16 victories of one of the parties.
At the beginning of each of the rounds, you can buy the weapon with which you can play the most well: a sniper rifle with which you can take out the enemy with one shot.
The classic mode where the terrorists need to plant a bomb, and the special forces to prevent this evil deed and save the world. Or the terrorists must prevent the withdrawal of hostages from their territory.