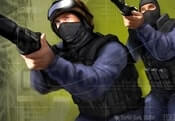 Condition Zero FREE GAME · PLAY ONLINE
Condition Zero is another version of the famous challenge. Are you ready to show all your power again? Go to hot spots to fight your opponents. Players will use different types of weapons, grenades and much more. Try to destroy as many competitors as possible.
In addition, if you take part in teams, then do everything for the common good. Here you need to be focused and attentive to avoid fatal mistakes! React quickly and come up with the perfect strategy! Visit one of the maps full of many unexpected moments!