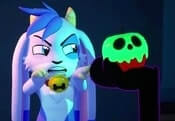 Billie Bust Up Pre-Alpha FREE GAME · PLAY ONLINE
This game is dedicated to rhythm and everything connected with it. Here players can go to beautiful locations with excellent graphics and enjoy. Meet the charming goat who decided to repeat her father's successes.
He was a professional in magic and now she wants to become the same. But this requires a lot of effort and you will help her with this! In this challenge, fans must go a long way and never fall! Can you jump on the platforms in a beat and find all the treasures? This requires attentiveness!