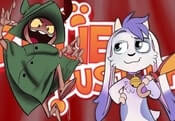 Billie Bust Up Characters FREE GAME · PLAY ONLINE
The sweet goat has long wanted to follow in her father's footsteps. He has excellent magic skills, but suddenly disappeared. Perhaps if the hero goes on a journey, he will also gain similar skills. In this game, players will witness wonderful events!
They won't always be positive, but it's worth it! Are you ready to face puzzle solving, treasure hunting and more? Here everyone can have a great time and enjoy the bright graphics! Don't forget that you have to get into the rhythm while jumping!