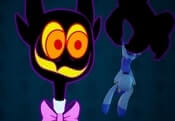 Billie Bust Up Demo FREE GAME · PLAY ONLINE
This is an adventure in which you have to manage a cute goat. Her dad owns magic, but he has long disappeared without a trace. The animal wants to repeat these skills and decides to achieve better results. This character will help two friends – axolotl and fox!
Go to excellent locations where unforgettable events await everyone. During the game process, players will be able to enjoy amazing melodies. Perform them according to the rhythm and do not get lost in any circumstance! Defeat all opponents!