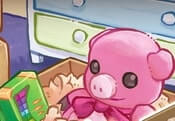 Unpacking FREE GAME · PLAY ONLINE
A relaxing process of cleaning and organizing houses for anyone who isn't a fan of speed challenges. Make everything beautiful after moving, sort out bags and boxes! Find a lot of things and improve the space around you.
Look into the lives of people who changed apartments, study them and use your intuition. The process of Unpacking allows your brain to relax and your thoughts to simply float without causing too much emotion. Let yourself be immersed in the lives of each character.