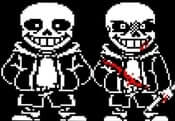 Undertale Last Breath FREE GAME · PLAY ONLINE
Undertale Last Breath this mod was made by fans. Here players will witness a cool and brutal battle. Suddenly Sans meets Guster and they have a conversation. He told the skeleton a lot of new information that will help him.
Now the enemy wants to attack the protagonist and you need to defend yourself. Guster won't let the monster die and will try to give him more power. In addition the participants will be waiting for Azgor and Flaui afterwards. They have a plan to destroy, be careful!