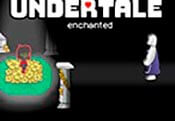 Undertale Enchanted (HD Remake) FREE GAME · PLAY ONLINE
After the war, people locked all the monsters in a special room. The main character accidentally got here and didn't know what awaited him! One human mistake can become a real disaster! In this game, players will explore this world which is full of darkness.
At every step there may be dangers and various unexpected situations. The choice is up to you how to proceed in different matters! Fight or negotiate to achieve your goals! The process contains many secrets that must be confronted!