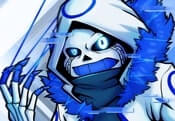 Undertale AU FREE GAME · PLAY ONLINE
Once upon a time this world was ruled by Ilios, Seraphs, and Oceanians. These three nations are catlike humans. One day two of these groups joined together and attacked the third. The losses of the latter were very great and as a result they lost.
Because of this they were locked in a dungeon beneath Mount Abott. In this game you will learn about new spells and events. The main character here is Bespi, who fell into the Ruins. Follow the dialogues carefully and make only the right decisions!