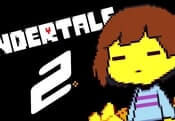 Undertale 2: Shadows of Time FREE GAME · PLAY ONLINE
This game is similar to the previous version, but has a few differences. Players will control the hero in a dungeon. On the way there will be a lot of monsters that need to fight. Controls are simple, so complexities do not arise. Also here is a map that allows you to see the whole area.
This will make it easier to see where your character is going. In addition, participants will be able to use magic spells. All this should be done wisely, because it affects the future. What path will you take to get to the truth?