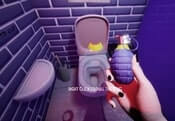 Toilet Chronicles FREE GAME · PLAY ONLINE
A strange place to be, for sure. Unless you've been locked in there by force. Have you ever thought that even in the toilet you are in danger? The main character will prove you otherwise. Well, you can appreciate the scale of the tragedy from the first person.
You and your neighbor, so to speak, in the booth, got into trouble. And it depends on you whether you get out of the toilet alive. How many experiences can you get while locked up looking for a way out? Your friend may be able to help you. If he does not want to become your traitor. The game will teach you to make sudden decisions.