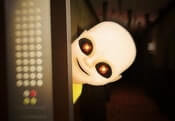 The Baby In Yellow FREE GAME · PLAY ONLINE
In this game you have to become a nanny for one night. The parents have gone out and left you alone with their child. It's up to the player to do all the housework before they arrive. This is a huge mansion with a huge number of rooms.
Don't get confused while running to the little one's screams! As midnight begins, strange things will begin to happen that will be very frightening. Unexpectedly, all the evil comes from the ward! Can you handle everything? Don't think about running, it will find you!