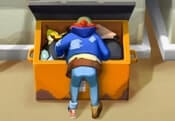 Street Dude – Homeless Empire FREE GAME · PLAY ONLINE
This is a simulation where you will control a man trying to survive on the street. You must collect food and shelter, as well as overcome the dangers of the urban environment. As you progress, you will make new acquaintances with strangers.
And also build your own empire at any cost in the Street Dude Homeless Empire! Fend off rival factions and avoid getting caught by the authorities, so as not to destroy life completely! Find new methods that will help you achieve the desired result!