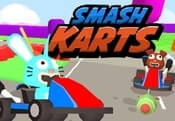 Smash Karts FREE GAME · PLAY ONLINE
Who said that racing is boring and tedious? This game will change everyone's mind, so check it out! Here the players will gather at the start and wait for a special signal. After that, press the gas pedal and rush like the wind.
Don't forget to create a unique character before you start that will become your friend. You can upgrade your skills to become even more lightning fast! But be careful, because the road is full of obstacles. Deftly go around them so as not to get into the red zone and not to leave early!