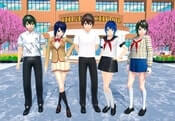 Sakura School Simulator For Girls FREE GAME · PLAY ONLINE
The main character opens his eyes in his own room and everything starts from that moment! Here, players will be able to customize his appearance and go on an adventure. The game is suitable for those who like to fantasize!
Choose activities that will bring you pleasure and improve your reflexes. You can visit new friends, go to college, or pick fights. Remember that it is impossible to kill here, but enemies can be obtained with ease. Take responsibility for your actions and do not try to run away!