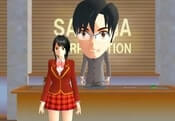 Sakura School Simulator 2 FREE GAME · PLAY ONLINE
In this game, players will take on the role of an ordinary schoolgirl. Wake up early in the morning and decide what to do today! Choose stylish clothes and go to conquer the city! This part has many updates that will surprise everyone.
Chat with other characters and become friends or enemies. Even if you try to kill someone, he will not die. The next day, he will have a goal to take revenge on his offender! Complete interesting tasks for which you will receive coins for improvements. Enjoy the atmosphere!