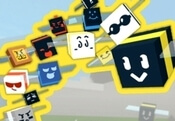 Roblox Bee Swarm Simulator FREE GAME · PLAY ONLINE
In this game, players will be able to go to a world that looks like a beehive. There are a huge number of insects that produce honey. Gather a whole team of them, constantly opening new ones! Complete exciting missions and get rewards for it.
Be attentive and make decisions quickly because time is limited here. Don't forget that you can also decorate the map with various items from the catalogs! Add flowers, snowflakes and cute animals! Try your luck on the wheels of fortune and win extra prizes!