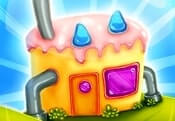 Purble Place Cake Maker FREE GAME · PLAY ONLINE
Today you have an amazing opportunity to be a confectioner. In Purble Place Cake Maker you have to bake a pie! This is an exciting process that keeps everyone focused. On the left of the screen there will be a finished culinary masterpiece and you need to repeat it.
Choose the desired shape of the cake, such as a circle, square or heart. After that, add multi-colored icing and decorate with bright sweets. Players will be able to add other things that will help achieve the desired result.