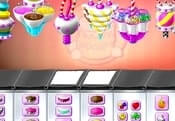 Purble Place 3 FREE GAME · PLAY ONLINE
This game is great for those who want to have fun and get some benefits. Players will be able to take part in 3 mini-challenges. Each of them will help improve memory, logic and reflexes. How about baking a beautiful cake?
Choose the color of the cake and bake in the shape of a heart or another. You can also find a pair for each of the pictures to clear the field. Here you need to be focused and carefully monitor so as not to get confused. In addition, players will be able to choose the desired image for the character.