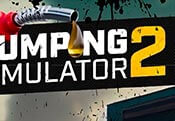 Pumping Simulator 2 FREE GAME · PLAY ONLINE
It's time to open a business that will bring success! In Pumping Simulator 2 it all starts with selling a car. This will bring in some profit to buy back the empty area. Now let's arrange everything as needed and wait for visitors.
Local residents and tourists will fill up their vehicles with gasoline or gas here. Install special fuel dispensers and other equipment! Constantly improve them and buy other items! Don't forget to take care of the clients and build a toilet, a cafe and more.