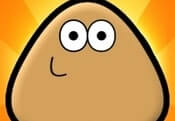 Pou FREE GAME · PLAY ONLINE
Welcome to the challenge where you can show your concern. Pou is a mysterious alien who recently arrived on our planet. He liked it here so much that he decided to stay forever. Now you have to spend time with him to make him as happy as possible.
He has indicators with which you can find out what he needs. Feed him delicious food, even occasional junk food and cool drinks. Take him to the toilet, shower and for a walk! Also, players can have fun in mini entertainment that will bring profit.