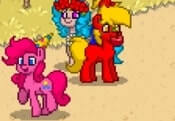 Pony Town FREE GAME · PLAY ONLINE
Are you still sure that unicorns don't exist? Join our game and we will convince you otherwise! The animals of the wonderful world invite you to visit them. Create your character using all possible tools. Use your imagination to the maximum!
Add features of any other animals to your special creature! Build a house and gather all the friends. Find out about the latest news from all players. Throw a party right on your first day and make an unforgettable impression. Choose a new profession every day!