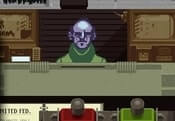 Papers Please FREE GAME · PLAY ONLINE
The game process will begin after the events of the Cold War. These are difficult times for everyone, so feel all the necessary emotions! The main character is a representative of the border services. Go to the location and receive residents who have decided to return to their hometowns.
It will not always be law-abiding citizens, so be careful and control it! In this challenge, you must always be on the lookout to find the offenders. Check everyone's documents, take fingerprints and much more!