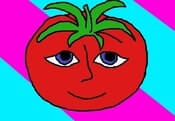 Mr. Tomato FREE GAME · PLAY ONLINE
Mr. Tomato is constantly hungry and needs your help. Visit his kitchen and find out what's in the fridge. This is a cool simulator where everyone will feel like a chef. Take out the food you want and give it to the character directly in the mouth.
He has favorite ingredients, but he has to try everything! Also use a blender to mix 2 products at once. You can experiment and add ice and lemon or garlic and banana to it. But if it is a disgusting mixture, then the main character will get angry.