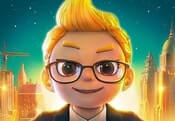 Meta World: My City FREE GAME · PLAY ONLINE
In Meta World: My City you have to create your own universe! Before starting, choose an avatar that will distinguish you from the rest. Many users take part in this challenge and you have to fight them. The main task of the players is to build various sights.
It can be tall houses, shopping centers, parks, lakes and more. Get additional plots of territories and know that no one will take them away from you! Collect all the excellent heroes with unique skills and make a deck out of them! Find your style!