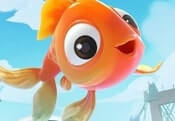 I Am Fish FREE GAME · PLAY ONLINE
You have to get acquainted with a small fish living in an aquarium. You are required to get to the ocean, but for this you have to overcome various trials and traps.
This is a cute adventure arcade that is impossible to pass by. An interesting plot and good gameplay give its charming atmosphere to I am Fish.
Funny fish travel around the big city in search of their home, facing various difficulties on their way. Simple gameplay and an interesting plot will certainly interest you.