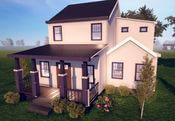 Hometopia FREE GAME · PLAY ONLINE
In this game, participants will be able to build various structures. These can be ordinary houses, mansions for the elite and much more. Perhaps you will be able to create a huge city with beautiful installations!
There is a large selection of missions that will captivate you literally from the first seconds. Complete them to get closer to the title of master and enjoy the results! Sometimes fans will have to do a simple renovation in one of the rooms. In some cases, come up with an apartment design!