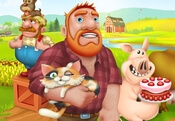 Hay Day FREE GAME · PLAY ONLINE
In this game, each of you has the opportunity to build your own farm. Achieve good results with as much effort and attention as possible. Here you have to sow the beds with different seeds and wait until they ripen. Harvest and send it to the warehouse!
A little later, you can sell it on the market and make a profit. Upgrade territories and unlock new products, industries and animals! Have a great time teaming up with your comrades and helping each other! Share your experience and achieve great results!