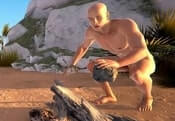 Hand Simulator FREE GAME · PLAY ONLINE
This challenge is unusual, but anyone who likes to try something new will like it. Here, players will have to control their own two limbs and perform various tasks. Each level offers unique activities that will either amuse you or perhaps stress you out.
In Hand Simulator you can assemble and disassemble weapons, spin a spinner or milk a cow! In addition, participants, along with their comrades, can take part in duels. Get rewards for your achievements to collect all the cards for your collection!