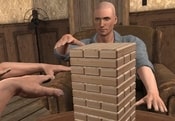 Hand Simulator 2 FREE GAME · PLAY ONLINE
This challenge is designed for players who love non-standard things. Here everyone will be able to laugh because the situations will be quite ridiculous. In Hand Simulator 2 you have to control the upper limbs.
They will be yours, but it will be very inconvenient and even a little unrealistic. They are naughty and therefore you need to make every effort to complete all the tasks. Players will be able to milk cows, draw lines, make crafts and much more! In addition, you can interact with different weapons.