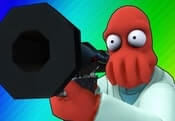 Gmod Sandbox FREE GAME · PLAY ONLINE
In this game, you have the chance to get rid of the usual rules. There will be no goals or objectives, so you can make decisions on your own! Players can start building various structures and even those that do not exist in reality.
If your heart is not in it, then try to use your creativity. Take the characters and put them in certain places in cool poses. Change the position of their limbs to make it look funny and stylish! There are also other activities that will add motivation and other emotions!