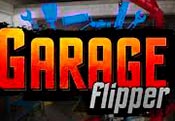 Garage Flipper FREE GAME · PLAY ONLINE
In Garage Flipper, players will go to a beautiful and vibrant location. There is a building where cars are parked. Get rid of them before you start renovating! People make trash out of it, but there's more to it than that! Can you demolish the ceiling correctly?
Will you be able to paint the walls evenly? There are also a lot of unnecessary things in this area that it's time to throw away. After you finish, go to the auction where you can place bids! Buy new workshops by purchasing them from your competitors!