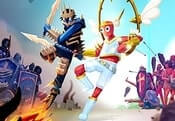 Funny Battle Simulator 2 FREE GAME · PLAY ONLINE
Funny Battle Simulator 2 is a strategy where you create and manage your own armies. Take part in epic wars and win each of them! With a wide selection of units and weapons to choose from, you can customize their tactics and formation. This will help outwit all opponents!
There are several modes here where you can test your skills against other people. With their humorous and whimsical graphics, players of all ages can enjoy this fun experience for hours! Be brave and build your own strategy!