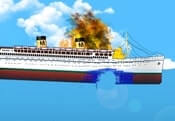 Floating Sandbox FREE GAME · PLAY ONLINE
Floating Sandbox is a cool simulator that will take place in the middle of the ocean. Here players will have to build a variety of ships. You have all the necessary materials and tools to start right now. Use your imagination as well as your logical thinking to get a good result!
As soon as you finish the process, check how strong your construction is. Try to destroy it in every possible way and watch! Work on your mistakes to create an unshakable craft! You will do what no storm can destroy!