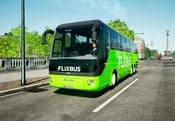 Fernbus Simulator FREE GAME · PLAY ONLINE
Do you think the job of a bus driver is as easy as shelling pears? Try it yourself in the Fernbus Simulator, which will plunge you into the reality of everyday driving. You will communicate with tourists and solve their problems, roads and remain attentive.
Build routes using real maps and think about the safety and comfort of everyone on your bus! Sell tickets and try to arrive at your destination on time. Otherwise, you will be displeased by 60 people. Try your best and stay patient! Good luck!