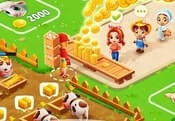 Family Farm Seaside FREE GAME · PLAY ONLINE
Well, you got a huge territory! Now the players have to put it all in order and create the perfect ranch. Build all the necessary buildings, houses, garden beds and more. Do everything for the harvest, and then sell it on the market!
Over time, you will be able to buy animals that will produce milk, eggs, and more. Don't forget to place factories to get even more money for improvements! Compete with your friends for the title of the best farmer and get cool rewards in Family Farm Seaside!