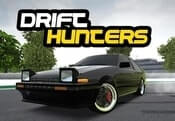 Drift Hunters FREE GAME · PLAY ONLINE
Do you want to feel like a racer? In Drift Hunters everyone has such an opportunity, so don't miss it! There's a huge selection of cars you can drive. Step on the gas pedal and drive through the best locations! It's a big city with lots of tracks of varying difficulty.
Choose the right one and start doing tricks. Practice to become a master and also learn new ones! Show your success to your opponents and make them jealous! In addition, players can buy new vehicles or improve the previous one!