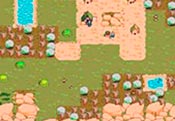 dotAGE FREE GAME · PLAY ONLINE
The main character of dotAGE is an old man who had an unusual dream. He foresaw that a lot of disasters would soon happen in the world. For this reason, he gathered all the villagers and went to a place further away.
Now he has taken charge of the entire situation and people are waiting for his further instructions. Players will have to take control of the entire process and solve problems as they arise. Can you cope with fires, floods and kittens? You will also encounter terrible diseases, viruses and poisons!