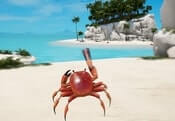 Crab Champions FREE GAME · PLAY ONLINE
Have you ever wondered how crustaceans behave? In this game, you will take the role of one of them and go to the island. Over time, you will be able to travel to other exotic places to become even more powerful.
Here you can do everything alone or with up to three companions. The main task is to collect loot and take part in battles with enemies. One round will take about 30 minutes, but you can try the endless mode. Find out how long you can hold out and how many enemies to destroy! Enjoy this atmosphere!