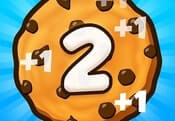 Cookie Clicker 2 FREE GAME · PLAY ONLINE
How do you look at becoming the king of sweet products? In this game, players will be able to keep themselves busy and distract from the world. You have to create pastries with pieces of dark chocolate. The more you bake them, the better for your ranking.
The main thing here is to be attentive and react quickly. Each level is unique and invites cool tasks. Complete them to unlock new upgrades! In addition, you can compete with other participants. Become a master in this culinary business!