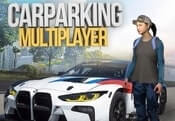 Car Parking Multiplayer FREE GAME · PLAY ONLINE
Car Parking Multiplayer is the most unusual racing challenge. Here you can not only develop tremendous speed to win competitions! Users can also customize their vehicles in a wide variety of ways. The garage has cool tools and the menu will open up a lot of possibilities.
Change the headlights, the color of the hood, trunk, wheels and much more! Do whatever you want and enjoy it! This is an exciting process that will bring a lot of emotions. Do not be afraid to experiment and start this way!