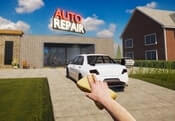 Car For Sale Simulator 2023 FREE GAME · PLAY ONLINE
This entertainment is perfect for those who want to feel like a businessman. In this game, players will buy vehicles in order to sell them. Go to the market and buy it in order to repair it. Notice all the flaws and problems, and then fix it!
After that, fans have a choice – keep the object for themselves or exchange it for money. Be careful because not all buyers are honest and can deceive you! Participants can learn how to enter negotiations correctly in order to conclude only large-scale transactions.