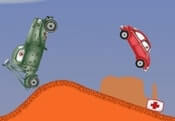 Car Eats Car 1 FREE GAME · PLAY ONLINE
This game is for everyone who loves extreme driving! Here, players will control toy vehicles and their task is to get to the finish line. There will be many different obstacles through which you must pass. Management can not be called difficult, but you have to get used to it.
Test your reflexes and ability to quickly respond to stressful situations. There will also be opponents who want to destroy your character. Will you be able to get to the goal slightly injured? Become a professional!